Our Outdoor Play Areas
Playworks Early Days Nursery boasts three safe and secure garden areas. Each age group of children at Playworks Early Days Nursery have their own garden area directly off their base room, which the children are able to  easily access throughout the day at their leisure to enhance indoor and outdoor learning experiences. 
Toddler Garden Area 
The garden area at the front of the nursery is home to the Toddler children. This area was constructed following the purchase of the nursery in July 2017. The garden boast soft flooring, tarmarc and artificial grass, providing the chidren with an  all purpose weather outdoor play area.  
There is an area for planting and growing and  for imganitive and role play in our wooden playhouse. There are opportuities for the children to get creative and messy using our outdoor chalk boards, painting easels and mudkitchen. Our sand and water trays are regular faviourites with the children too!
Physical development and gross motor skills are encouraged through our range of bikes, trikes and push along toys as well as our slides and climibing frame. 
Before
After
Located at the back of the nursery is our Baby and Preschool garden areas, these can be overlooked from our secure carpark. 
Baby Garden Area 
The baby garden area can be accessed directy from the Younger Baby Room. This is a secure area within the rear garden, meaning that Pre School childen can access the garden at the same time.
The baby garden is fitted with artificial grass, providing a suitable surface which is safe and comfortable for babies delicate skin. To encourage physical development the babies have access to a suitable climbing equipment, slides,  rockers and push along toys. The garden area can even be used on warm days with large sun umbrellas providing shaded areas.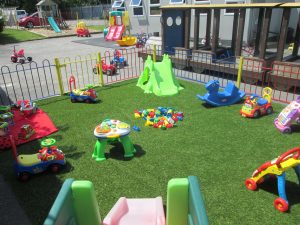 Preschool Garden Area
The Preschool children are able to access a large and secue outdoor area fitted with both tarmac and artifical grass flooring.
Children can develop their gross motor skills through play on our large wooden Pirateship and wooden climbing frame with sand pit. There are a whole host of bikes trikes and scooters that are available to burn off vast amounts of energy. 
For those children who would like to engage in Imaginary and Role play, we have a large wooden train and outdoor role playhouse. 
There is a area dedicated to planting and growing and at the front of the garden you may just see some special visitors in our Fairy Garden!